Your brand's website design will significantly impact your ability to reach your goals. Since your website represents your brand, anyone who interacts with it will use their experience to form an opinion of your business. To get the best results, focusing on the design of your website is one of many essential aspects you need to take your time on and test.
Leaving a great impression on your visitors can help establish customer loyalty and trust. This can then positively impact important KPIs like traffic, bounce rate, transactions, and conversions.
It's crucial that you make time to create a website design that is easy to navigate, visually appealing, and that will be memorable to users for all the right reasons.
Use these tips to create a stunning website design that will impress your audience and keep them coming back.
Choose Your Domain Name Carefully
Before getting down into the nitty-gritty design details, you first have to decide on a domain name for your website. This may be as easy as using your already existing brand's name, but, if you don't have a brand name yet, then you'll need to do some thinking.
Since your domain name is one of the first things users see, it is responsible for creating a great first impression. Take your time and try out different options before settling on the perfect one.
Keep It Short and Simple
A shorter domain name will be easier to remember and type out, ensuring users won't have a hard time finding your site. It's also important to use a unique name that won't get confused with other brands.
Avoid Unusual Names
While you want a unique domain name, this doesn't mean you should make it complicated. Your domain name should be easy to spell, so try to avoid complicated spelling, slang, or made-up words. Avoid special characters like hyphens and numbers since these make a domain name even harder to remember.
Think About the Future
A trendy word may seem fitting right now, but trends and slang change quite quickly. Opt for something timeless that won't be embarrassing or seem out of touch later on. It's also important to think about the future of your business. You don't want to pick a domain name that will limit what your product offering is. Keep the name broad enough to give yourself space for future growth.
Use the Correct Extension
The domain extension may not seem all that important, but it can actually impact how users view your brand. Some of the most commonly used extensions are .com, .net, .org, and .co, but there are plenty more to choose from.
Source: https://growthbadger.com/top-level-domains/
Specialty extensions like .org or .edu are used for very specific purposes, so just be sure that the extension you use perfectly reflects what your brand is all about. For example, if you sell t-shirts but your extension is .edu, people will click away from your site because they think they're being taken to an educational website.
Make Sure It's Available
Unfortunately, you may find that some of the domain names you're interested in are already being used. Since this can happen often, it's best to check that the domain you want is still available before you settle on it. Similarly, be sure your brand name isn't already trademarked before you start using it.
Create an Appealing Website That Keeps Customers Coming Back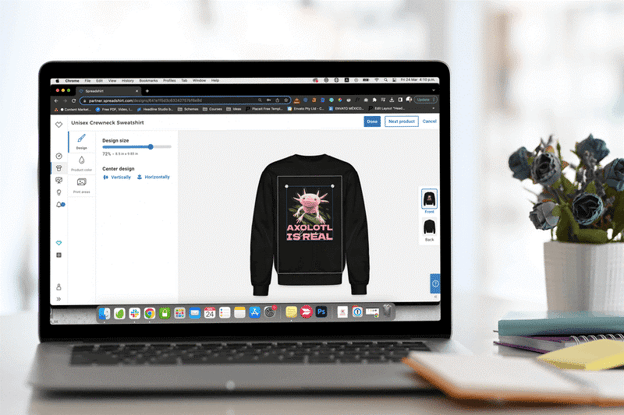 Source: https://blog.placeit.net/create-custom-designs-for-your-shop/
Having a website is a must nowadays because most people spend a huge chunk of their lives online. From shopping to entertainment and even health appointments, everything is available through a screen as long as you have an internet connection.
Not only is having a website essential, but you have to have one that really stands out and creates a positive experience for users. Creating a branded experience that is memorable and that showcases your business in the best way possible will lead to returning customers and a growing customer base.
To create a website experience that your customers will remember, start by focusing on these elements:
Make your logo visible on every page: Most websites have a header design that stays consistent on every page. Add your brand's logo to your header to ensure it's always at the top of every page without being distracting. Most websites have theirs on the top left-hand side of the page next to their menu.



Incorporate your brand's colors across your website: Establish a color palette that reflects your brand and stick to those colors when it comes to CTAs, hyperlinks, hero banners, and other design elements.





Use images that reflect your brand's values and voice: Whether you're using real-life images or stock photos, be sure they all highlight your brand's values and overall tone. If your website is for a law office, then it makes sense to use serious photos of people at work. If you run a makeup brand for 20-somethings, then brighter images with color and movement make more sense.





Keep your graphics consistent: If you're including any sort of graphics in your website design, these should all match. They should all incorporate the same art style to give your website a more polished and cohesive look.





Develop a brand voice that is consistent in all of your copy: Before writing any copy, decide what tone aligns with your brand. Do you want to sound serious and academic or do you want to sound fun and whimsical? Once you've decided on the tone, craft your copy with this in mind. This should also be consistent on your social channels and printed items, like packaging.





Create an 'About Us' page: Share your brand's mission, vision, and values with your customers so that they get a clear understanding of who you are and what you stand for. When your values resonate with your customers, they'll be more likely to come back to your website, purchase from you, and recommend you to their friends. Be sure you follow through on your values so that they aren't just a hollow selling point.
All of these elements together can create a unique brand experience that will make your website memorable for everyone who interacts with it. This will ensure you are a customer's first thought whenever they are on the hunt for products or services like the ones you offer.
Select a Reputable eCommerce Platform
If you decide that you want to use an eCommerce platform to build your website, you're not alone. Tons of websites are built using eCommerce platforms because they make the process much easier and less time-consuming than coding a website from scratch.
We're lucky that there are so many options to choose from, but this also means you have to set aside some time to research the different eCommerce platforms, what they offer, and what suits your brand the best.
Some key items to consider as you do your research are:
Your needs and wants: Before starting your research, create a list of things that are absolute needs for your website. This can be something like different currency options for international shoppers or easy integration with another platform. Make a list of your wants as well and see how many of those can be checked off by the options you're considering.





Your budget: You'll find that eCommerce platforms don't all cost the same. In fact, many offer pricing plans based on the size of your operation. Have a set budget and look for platforms that will allow you to accomplish your goals without breaking the bank.





Your skills and limitations: Some eCommerce platforms require less design and coding knowledge than others. If you're an expert with tons of coding experience, this won't be a problem, but for beginners, it can lead to a lot of frustration. Be honest about your abilities and avoid setting yourself up to struggle.





Plugins you may need: A huge plus when using an eCommerce platform to build your website is that they often have tons of plugins you can use for just about every aspect of your operation. If you have something specific in mind, be sure that the platforms you're considering have the plugins you need to execute this perfectly.
All eCommerce platforms can have a bit of a learning curve, but don't let this discourage you. With practice, help from tutorials, and maybe even some assistance from customer support, you can build your website and customize it to your liking.
Focus on Your Website's User Experience
User experience is probably a term you're used to hearing, especially when it comes to designing an effective website or building a mobile app. While most brands put heavy emphasis on getting their UX right, it's not uncommon for them to focus on the wrong things.
In general terms, good UX should translate into giving your users exactly what they're looking for through a seamless experience. This, of course, means that you have to get to know your target audience and their user journey. Get to know their values, abilities, and limitations to guide your design.
It helps to create user personas so that you have a specific user in mind when developing your website. Once these personas are complete, map out each user's journey to get a super clear picture of how they will navigate your website and what issues they may run into along the way.
This can sound tedious and time-consuming, but getting to know your audience, their needs, and their journey can be eye-opening. Working without this information is like running a marathon without ever having run a day in your life. Once you've done the work to get to know your users, then the rest of the process will be easier because you'll be armed with the information needed to make impactful decisions.
Source: https://venngage.com/blog/user-persona-examples/
You can break down your UX design further into four main factors. These four factors need to work together cohesively in order to achieve a great user experience:
Navigation: Create logical hierarchies within your site, keep page design consistent across your entire website, and keep things simple so that it's easy to navigate.





Visual design: The visual elements of your website should be welcoming. Avoid causing decision fatigue by cluttering your pages or by adding too many CTAs. Keep color palettes, typography, and copy clean and simple.




Site speed: Reduce the frustration caused by pages loading too slowly. When a page takes too long to load, users will leave your website and look for an alternative. In fact, your website should load within 4 seconds. After that, your conversion rates will start dropping.


Meeting user needs and expectations: When designing, keep the customer in mind at every step. Create user personas and go through their journeys so that you're sure they can get where they want to go without meeting obstacles or barriers.
Avoid rushing through anything as you work on your website design. Taking your time, testing your work, and documenting will all help you immensely in the future.
Beyond these four main components, there are some other more nitty-gritty items to take your time on:
Menus: Take the time to figure out a style that can stay consistent across your website, optimal placement, hierarchy, and the copy you will use (think keywords).





Call-to-action buttons: It may be tempting to use CTAs for everything, but this can be confusing for users. Keep the CTAs to a minimum and decide when a hyperlink is a better option. Define CTA sizes, color palette, placement, and copy.





Cart: Make it simple for users to add items to their cart and for them to see their cart. Make check-out easy without too many complications. Avoid adding unnecessary steps in between a user checking their cart and checking out.





Forms: If you have forms on your website, avoid having too many fields for users to fill out, this can lead users to give up halfway through.





Site content: All the information on your website should be honest, reliable, and trustworthy. This will help your website authority and will help strengthen your relationship with your audience.





Safety and reliability: Be sure that your website safety is clear to users so that they know you are legit. Definitely have an up-to-date SSL certificate, display real customer reviews, and offer great customer service that is easy to connect to.





Mobile-friendly design: Since mobile users account for a huge chunk of traffic for most websites, it's a no-brainer to focus time and resources on developing a mobile-friendly website design.
It's essential to use analytics and data to stay on top of things like bounce rates, cart abandonment, and general behavior so you know what's working and what isn't. You can use this information to determine where users are coming across obstacles. To avoid losing customers to the same issues, identify what isn't working, make some updates, and test your results.
Testing should always be a part of the process so that you're sure you're getting closer to creating the most ideal user experience.
Provide Exceptional Customer Service That's Easy to Find
Even if you get the UX right, customers will still need to get in contact with you. They may have questions about products, a service, or even have valuable feedback for your brand.
Create an FAQ page to answer some of the most common questions, but don't leave it at that. Be sure links to your customer support email or phone number are easy to find in your site's navigation, whether that's in your website's menu or the footer. It can be very frustrating to have a question that isn't being answered and no support options available.
Another option is to include a chatbot on your website. This makes it even easier to talk to a support person who can provide assistance quickly.
Always take your customers' questions and comments graciously and offer them the best service possible. Do your best to respond in a timely manner so that you don't lose a potential customer. The service you provide will help strengthen your brand's reputation, which is important for customer retention.
Optimize Your Website Using Up-to-Date SEO Strategies
Optimizing your website for search engines is crucial if you want to bring in organic traffic. There are tons of little things you can do to ensure your website is noticed by search engines and recommended on search engine results pages.
Some aspects of SEO are easy to take care of on your own and get easier with practice. There are others that are more technical and will require help from someone with more experience.
To get started, here are some basic search engine optimization strategies you can start with.
On-page SEO
While search engines look at your entire website, what ranks are the individual pages. On-page SEO involves making adjustments to these individual pages to ensure they're search engine friendly and easy to navigate for your customers. Some aspects of on-page SEO include:
Friendly URLs: Your website's URLs should all be clean and descriptive. Avoid URLs that are too long, include symbols, and aren't clear about what the page contains.





Page titles: Your page titles will show up in search results, so work on making these appealing. Avoid making them too long because they will get cut off. Include relevant keywords in your titles naturally, make them descriptive, and be sure they're relevant to your content.





Headings: Every page should only have one H1. Use H2s, H3s, and H4s to give your content an easy-to-follow hierarchy and structure. These subheadings will make your content easier to read for search engines and for humans. Avoid using certain headings just because of how they look and stick to a hierarchy that makes logical sense.





Optimize images: Images and videos are great visual items to include on your website. When you do include them, be sure to give them a friendly name before uploading them. Try to include keywords in the image name and always give them alt text. If needed, resize your images and compress them so that they don't make your website loading time slower.




Content SEO
This can be considered a subset of on-page SEO but it has more to do with written content in something like a blog linked to your website. To achieve great content that ranks higher, use these tips:
Conduct keyword research: Before writing a piece of content, you first want to make sure it's something people are looking for. This is where keyword research comes in. You can use tools like Google's Keyword Planner, Ahrefs, or Semrush to see the search volume for terms you're interested in writing about. Once you've found a term with a good search volume, plan some content around it. Include the keyword in your headings, text, and image alt text for a better chance of ranking.





Write longer posts: Your posts should be long enough that they cover the subject you're writing about thoroughly. Pages that provide ample information and are actually useful to searchers will rank higher.





Include structured data: Rich snippets or structured data may not sound familiar, but you've probably seen them in action. These pieces of information can show up with a search engine result and add more visual information. These can be displayed in many forms, including rating stars, FAQs, how-to steps, a product image, a video, etc.




Technical SEO
As its name states, technical SEO deals with more technical aspects of your website that can help it rank higher in SERPs. If you don't have experience with these technical aspects, it's a good idea to hire someone to take care of them for you. Some basic tasks to take into consideration are:
Optimizing your website's robots.txt file: Doing this will allow you to tell search engines what pages in your website to crawl and which ones to ignore. This is most important for websites with a lot of pages since an overwhelming amount of pages can negatively affect your site's ranking.





Submit your sitemap to search engines: Don't forget to submit your website to Google and Bing, the biggest search engines around. Doing this will let them know your website exists and ensure it gets crawled. This isn't hard to do and can be accomplished on your own with some simple instructions from Google or Bing.





Get your site structure right: Your site's structure isn't just important for UX reasons, but also for SEO reasons. Your structure should make sense and be logical so that search engines have an easier time crawling your website and understanding it.
Source: https://seranking.com/blog/website-structure/
There's a lot more to SEO than this, so be sure you do your research on how to optimize your website. Since things can change quickly, be sure to stay up to date on the latest Google updates so that your website doesn't fall behind.
Make It Easy for Customers to Interact With Your Brand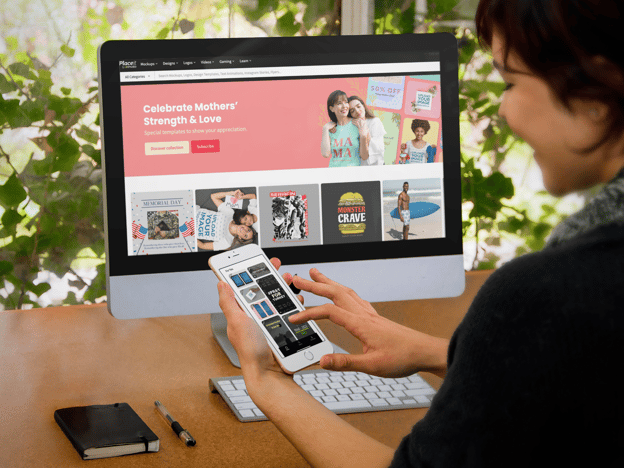 Source: https://placeit.net/digital-mockups
Nowadays, brands must have an online presence outside of their website. Luckily, it's super easy to create business accounts on just about any social media platform out there.
You may be wondering what social media has to do with your website design, but hear us out!
After creating your social media accounts and coming up with a strategy for them, add links to them in your website's footer. This will encourage your customers to head over to your profiles and interact with you.
Of course, this means you'll have to post social content that is engaging, informative, entertaining, or that simply appeals to your niche. You can encourage engagement by hosting giveaways, asking for feedback, or running other types of social promotions your audience will want to participate in.
As your engagement and following grow, this can mean more traffic to your website and more interest in your brand. For returning customers who follow you on social media, this can lead to brand loyalty and can even lead some customers towards becoming affiliates or ambassadors for your brand.
You can also take user-generated content that is posted on social media and feature it on your website. Reviews and images of real people wearing your products can be posted on product pages, giving your products more legitimacy. Just be sure to ask permission before posting!
Conclusion
Creating a website for your brand can take some time and some effort, but the end result will be worth it!
Avoid rushing your website design, even when it comes to smaller details you think aren't that important. In the end, all of these details will add up and you'll be happy you took the time to get them just right.
Not only should your website look great, but it should also function seamlessly and give customers what they're looking for without a struggle. This can lead to better conversion rates, lower bounce rates, and increased customer satisfaction and loyalty.
Test everything along the way, whether it's a small change in navigation or a revamp of your copy. Document these changes, the testing process, and the results for future reference.
This can all feel like a lot, but you'll be happy you took the time to do it all once your website is up and running.
Author Bio:

Roberta Camarena is a marketing professional with expertise in organic content creation. She is currently a content marketer at Placeit, an online design tool and mockup generator. On the weekends, you can find her at a neighborhood cafe getting some writing done and getting distracted by dogs.