When Bugs Take Over (And How To Stop Them)
What Happened To Bó?
Bó was the digital bank developed by RBS, set to take on the likes of Monzo and Starling. Its intention was to provide the impressive budgeting functions associated with Monzo with the security of being backed by a traditional bank.
Sounds like a great idea, right?
Unfortunately, it had to be wound down only 6 months after public launch.
Of course, a significant factor as to why Bó didn't survive is the Coronavirus pandemic. As banks and beyond brace themselves for a period of economic uncertainty, many organisations are making the necessary cuts to protect themselves financially.
But there was another issue impacting Bó. And that issue was bugs…
A buggy start
According to Sifted, Bó initially struggled with software issues, and the team spent the first three months post-launch fixing bugs. They also reported that earlier this year, a compliance glitch forced thousands of users to replace their cards.
On top of this, customers noticed the bugs too, and they had something to say about it. And that something wasn't great...
Bó's Google Play rating sat at 2.4 stars, compared to Monzo's 4.5. That's not a great rating for a challenger brand, especially one just trying to assert authority in the banking industry.
Why does this matter?
Critical bugs at early stages do nothing to inspire trust in a brand. Even if your app was born from the best idea out there, glitches are going to taint public perception of your product.
No one wants to jump onto a ship that looks like it's sinking. Especially when it comes to money, your customers want to know they are in safe hands.
So if users are coming across bugs and glitches, it's going to be hard to retain them. In an oversaturated tech market, the uncomfortable truth is that if your product doesn't deliver, a customer can simply open up the app store and find a better quality alternative. This high level of competition means you have to impress your users time and time again.
Moreover, if your customers take to the reviews to vent their frustrations, that is even worse news for your brand.
Let's say you are ordering a takeaway from a local Indian restaurant. First, you Google 'Indian Restaurants near me', and then you scroll through the options available to you. And what do you check? The reviews.
You wouldn't eat at a restaurant with one star, but you might choose the four or five star spot to eat with a glowing recommendation from a happy customer.
App users shop around in the same way.
That means that if you were choosing between Monzo and Bó, you were choosing between the 2 star restaurant with some angry reviews and the 4 star restaurant with thousands of gushing customers.
It's a pretty easy choice to make.
So, how do you stop bugs (and win over customers)?
With quality.
Delivering a quality product is a surefire way to win over your customers. If your users are wowed by a seamless and bug-free experience, they are going to keep using your app or web page. So how do you deliver quality?
1. Make QA a priority
Making QA a priority is the first step.
You need to recognise, internally, how important quality is to your bottom line. Quality is everyone's responsibility, but you need to make sure that someone in your company, whether it's you or another executive, owns quality, and is responsible for how QA processes are implemented.
That person can work to build a culture of quality inside your company by influencing and aligning internal views of quality.
This emphasis on the importance of quality will encourage your team to keep QA at the forefront of their minds when designing, developing an and launching products. A culture of quality will help to make sure that QA never slips through the cracks.
2. Have an amazing QA strategy
A detailed and comprehensive QA strategy is a vital component of producing a high-quality product. Failing to prepare is preparing to fail, after all!
Creating an amazing QA strategy will take time. You need to assess your current QA processes and see where there are gaps, or where things could be improved or changed. As always, strategic changes are time-consuming but are well worth the rewards.
Learn how to build the ultimate QA strategy here.
3. Introduce QA early
Introducing QA early on in the development process will ensure you build testability into your product, and fix bugs before they make it into production.
As shown by Capers Jones, a bug found post-launch can cost more than $16,000 to address. But developers could have fixed that same bug in the early stages for as little as $25.
The team at Bó, for example, spent three months post-launch fixing bugs. That sounds expensive….and time-consuming too.
Especially when Jones' research shows that 85% of bugs are introduced in the design and build phases of development.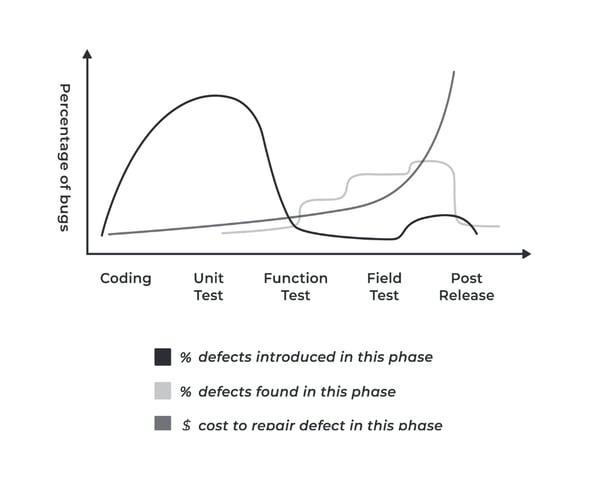 Image: Capers Jones
If the team had detected bugs during the early stages, they could've been fixed without ever making it to market. And they could've been fixed for considerably less than post-launch.
That's why introducing QA early is so important - it saves you time, budget, and inevitable stress later down the line.
4. Use a wide variety of testing techniques
One mistake product teams commonly make is to pick one testing method and stick with it, no exceptions.
If you have paid for an automation tool, for example, you might be tempted to automate all of your testing, to make the most of your investment.
But, in fact, automation simply does not work for every test and cannot provide you with the crucial bug reports that exploratory testing or localization testing can.
For that reason, it is vital that you have a wide range of testing tools in your testing toolkit. This wide coverage will mean that your product is thoroughly tested.
5. Partner with a crowdtesting solution
As well as these internal shifts, you can make the decision to partner with a solution that elevates your QA and reduces the risk of unhappy customers.
If you want a solution that provides your customers with quality products at speed, crowdtesting is for you.
At Global App Testing, we provide on-demand functional testing that enables tech teams to test in 105+ countries with 40,000+ professional testers using real devices and environments.
That means you have access to wide testing coverage across the globe, on a huge range of devices and networks.
What's more, our professional testers find critical issues fast. That means you can receive detailed bug reports from exploratory tests moderated by our in-house team in under 72 hours. Our platform, Ada, can offer even faster results, with test case execution in under two hours.
That means that as quickly as you find the bugs, you can go about fixing them and ensuring they don't make their way into production.
The importance of quality
It wasn't just bugs that impacted the success of Bó, but they did play a big role in brand perception. And when customers don't trust your brand, it's extremely difficult to encourage them to buy into it.
That's why delivering quality is so important. In a tech-first company, your app is your 'front of house', it is your shining beacon of representation for what your brand delivers. So it is crucial to make sure that your app helps to grow your brand, and win the trust of your users.
Remember, the 5 methods for reducing bugs and winning over customers are:
Make QA a priority
Have an amazing QA strategy
Introduce QA early
Use a wide variety of testing techniques
Partner with a crowdtesting solution
If you would like to learn more about reducing the impact of customer bugs and improving the quality of your product, book a free consultation with one of our growth experts today.