Earn Digital Applause ―Draw More Customers to Your App
Digital applause is all about reputation, brand building and creating a flywheel of referrals and publicity. Fuel user acquisition, make users happy, let them tell the world and be your best marketing channel.
How your app performs, how it's perceived by your users and how it's discussed in public has an obvious impact on your brand image, KPIs and ultimately, your financial performance.
When the Wirecard scandal erupted, not everyone was surprised. Telltale signs appeared all over app reviews. Something wasn't right with their software. Now we know that was just the tip of a treacherous iceberg.
Adding fuel to the fire, Wirecard gained a reputation for going on the attack when faced with criticism. If you want to protect your brand, the best way is prevention. If things do go wrong for your users, a little humility goes a long way.
When allegations arose around financial inconsistencies within the business, it wasn't long before users and investors lost confidence. But it wasn't the first indicator that something wasn't quite right.
A quick scan through their reviews and you'd see less applause, more of a collective boo-hiss.
Wirecard users had left their financial details in the hands of a brand they no longer trusted. It's an extreme example and easy to dismiss it as an exceptional case.
But even if your app is free, even if you don't have access to users' financial information, there's always an 'ask' on your part. You're asking people to download your app to their beloved device. To allow you access to their data, their hardware, their privacy –and users are more savvy about this than ever before.
How to measure digital applause
There's a bunch of ways to track appreciation for your product. Some are visible to the world and some are internal. The more positive feedback out in the wild, the better.
App store ratings:
Good reviews at the point of download are pure gold. When you have volume as well as high ratings, it's the equivalent of seeing a packed restaurant or long line at a lemonade stand. People are far more likely to trust other customers than they are to trust your brand.
Humans are naturally sceptical. So a handful of top ratings is a great start, but a deluge of 4 and 5-star reviews builds confidence in your brand that no amount of clever marketing and paid PR can buy.
Canva has swathes of high ratings. But even unicorn apps with a huge global footprint get the occasional less-than-perfect reaction.
How do they deal with that?
Canva responds to every review that isn't 100% positive. They're always ready to reply to feedback and user questions, showing they are listening, offering help and care about their customers.
Review comparison sites:
In the B2B app world, savvy potential customers head to sites like Capterra and G2. And while they're an excellent addition to your overall reputation, they're also a potential distraction, offering up alternatives to your app and pulling comparison shoppers towards the best-fit product or the app that appears the most tried and trusted.
Downloads, sign-ups & sales:
Ok, it's kinda obvious but every download, sign-up or sale is worth celebrating. Publishing the number of downloads or customers you have is a powerful metric for you and a signal to other potential customers. Not every bit of social proof has to be a 100+ word love poem on a reviews page.
Activations:
Straight out of VC Dave McClure's Pirate Metrics framework, activation is a key milestone and growth lever.
If you've not heard of Pirate Metrics before, here's where that name came from.
Acquisition
Activation
Retention
Referral
Revenue
Up to 60% of people buy, download or sign-up to an app but never return. If your customer's first experience doesn't help them see the value in your app, they don't become 'activated'. The sooner you help people achieve their 'Aha!' moment --the feeling of relief and excitement that your app delivers on your promise, the better chance you have of retaining them.
Retention vs Churn:
Reducing churn is a sure-fire sign you're keeping your users happy.
The churn rate is the percentage of customers who stop using your app within a given timeframe. Some measure this monthly, some quarterly. Some even annually. But we recommend the shorter end of the spectrum.
Of course, you want your churn rate to decrease over time. It might plateau at around 2% if you're doing well. But it's not unusual to start with a higher churn rate if your app is new or your whole brand is new. High churn can kill an app. Yet it's often overlooked because acquisition and retention are hard-wired into the minds of sales motivated leaders.
This leads to Leaky Bucket syndrome. Apps pouring budget and energy into acquisition and retention to try and keep up with the users pouring out of your app.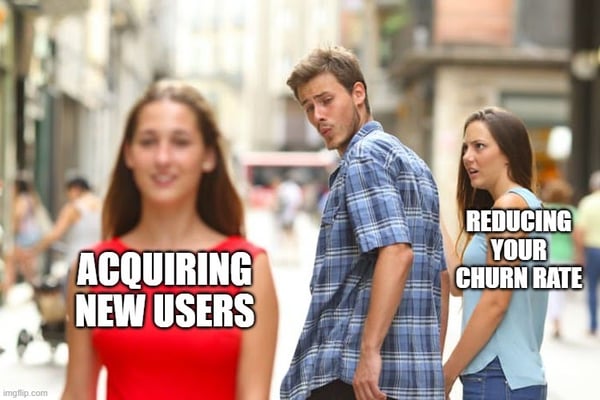 NPS scores:
If you need a quick snapshot of a customer's willingness to recommend your app, analyse your NPS score. Studies by Harvard & Semcast show a direct correlation improved their NPS scores and improving revenue.
"How likely would you be to recommend [your app] to a friend or colleague?"
Score categories:
People choose the likelihood on a scale of 1 to 10. Then you get a quick view of which customers fall into which category:
0 – 6: Detractors
7 – 8: Passives
9-10: Promoters
Despite the correlation, it doesn't help you answer questions about why customer attitudes are trending in either direction. While this is a good indicator of 'what' people are thinking, it doesn't give you much insight into the why. Calculating your NPS is a jumping-off point for more research and discovery to uncover those 'whys'.
Surveys:
Most people include a free text field in their NPA survey in the hope it will capture some of the reasons why your app or brand qualifies as referable.
Even so, it's quite limiting and you won't always get the deeply valuable insights you're hoping for:
Consider supplementing your basic NPS exercise with carefully crafted surveys with specific questions tied to your goals. You can serve pop-up questions in-app, via email (if you've got the right permissions) or as exit-intent pop-ups from your marketing site.
Well-worded questions asked at the right time help you pinpoint sentiment about specific parts of a users' experience. In turn, helping you identify areas to test, diagnose and improve for better retention and referral rates.
Social listening:
Set up social listening tools so you're ready to join conversations anywhere online. Take a leaf out of Yorkshire Tea's book (pun intended and I'm not sorry).
Automate social listening to get alerts when people talk and mention your brand online. They might be talking about bugs, crashes, glitches and even positive app experiences. Or it could be about your brand and what you stand for and against.
It can happen anywhere. On forums, social media and blogs.
Yorkshire Tea is a national favourite in the UK. When someone used their brand name to make a stand on a social and political issue, they were ready to fire back and win huge rounds of applause from the kind of consumers (humans) they want more of.
Check out how many heart-shaped likes they got from the Twittersphere when Yorkshire Tea responded to someone using their brand to spread a message they don't align with.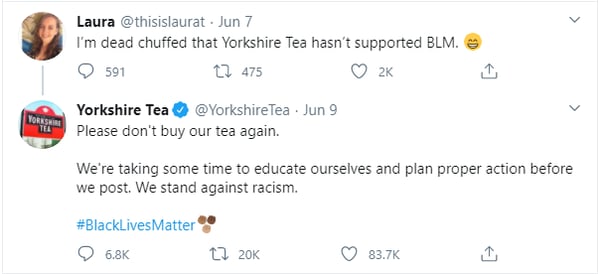 This wasn't even an attack on the product or it's quality...obviously, because Yorkshire Tea is delicious.*
*Are you listening Yorkshire Tea? Yes, I am open to influencer sponsorship in the form of annual teabag supplies.
What happens when you ignore quality?
Balancing quality with speed-to-market on your releases is a constant balancing act. There's always a trade-off. But ignoring quality and just releasing new apps or updates without a solid QA process can have devastating effects.
Negative reviews: We've already dipped into the impact positive reviews can have. We've also talked about how to manage negative reviews. But too many negative reviews and not enough higher ratings to balance them out is an immediate red-flag to would-be customers.
Not to mention the time and cost of responding to every review, collating the feedback for your dev team and sifting through what counts as a QA issue vs every other type of unhappy response you find. Prevention is always better than cure. A solid and reliable QA process will save precious budget and negate the possibility of irreversible brand reputation damage.
Poor feedback: Feedback is useful. Whether it's positive or not. But we know that a slew of negative feedback not only slows down your support teams but it chips away at morale. Bad feedback doesn't stop at the front line either. It can and will worm its way into leaderships' inboxes. Affecting confidence in your department and even investor confidence if you're playing at that level yet.
Lack of revenue: When word about poor quality gets out, it spreads. If your product is associated with a painful, buggy experience. New customers, even existing customers, look for another way to find the value your app promised (and failed) to deliver. Your app is intended to improve your customers' lives, not create new annoyances.
Compound this with a lack of user acquisition, reduced activation and increasing churn and you have a revenue catastrophe around the corner.
What's limiting your ability to earn digital applause?
Nobody makes a conscious decision to ignore app quality. But there are common roadblocks. If you're awake at night worrying that you're not giving your customers the best experience possible, note down what's getting in your way so you can make a start clearing away those obstacles.
Common barriers include;
A lack of internal resources
Having an unclear QA plan or processes
Having no process at all
Bottlenecks in your development cycles
The perception of QA importance among stakeholders
Budget constraints
These common issues affect businesses of all sizes. You're not alone and Global App Testing wouldn't exist if every organisation could battle all these issues alone.
How Global App Testing improves digital applause
We can't fix everything about your brand perception. But we can help you deliver a quality product.
Quality begets praise and digital applause gets you more customers. Turning a leaky bucket snowballing acquisition, adoption and retention.
If you've optimised your QA processes but lack the resources to conduct testing at scale, there's an affordable, easy-to-implement option available.
Crowdtesting solutions, like the kind we offer at Global App Testing, support your existing QA team and processes. We have 40,000+ testers in 189 countries on hand to execute a range of functional tests across all devices.
You don't need to wait for users to leave an embarrassing review, flood your support team or simply churn out. Instead, you can scale QA without the associated recruitment headache and costs.
With a mix of automated testing and professional testers (the human kind), you'll have access to blisteringly fast test case execution and manual testing. Fast bug reports mean your team is free and able to work on same-day fixes.
Book a meeting with a Global App Testing specialist today and discover how crowdtesting can help you get a standing ovation.