Top 5 Localization Challenges (inc. zombies?)
Can Pepsi bring your ancestors back from the dead?
That's what Pepsi told the Chinese market when they launched their advertising campaign "Come alive with the Pepsi Generation".
Pepsi spent time and money to make sure the translation was right, but when they launched their campaign on billboards around China they ended up with: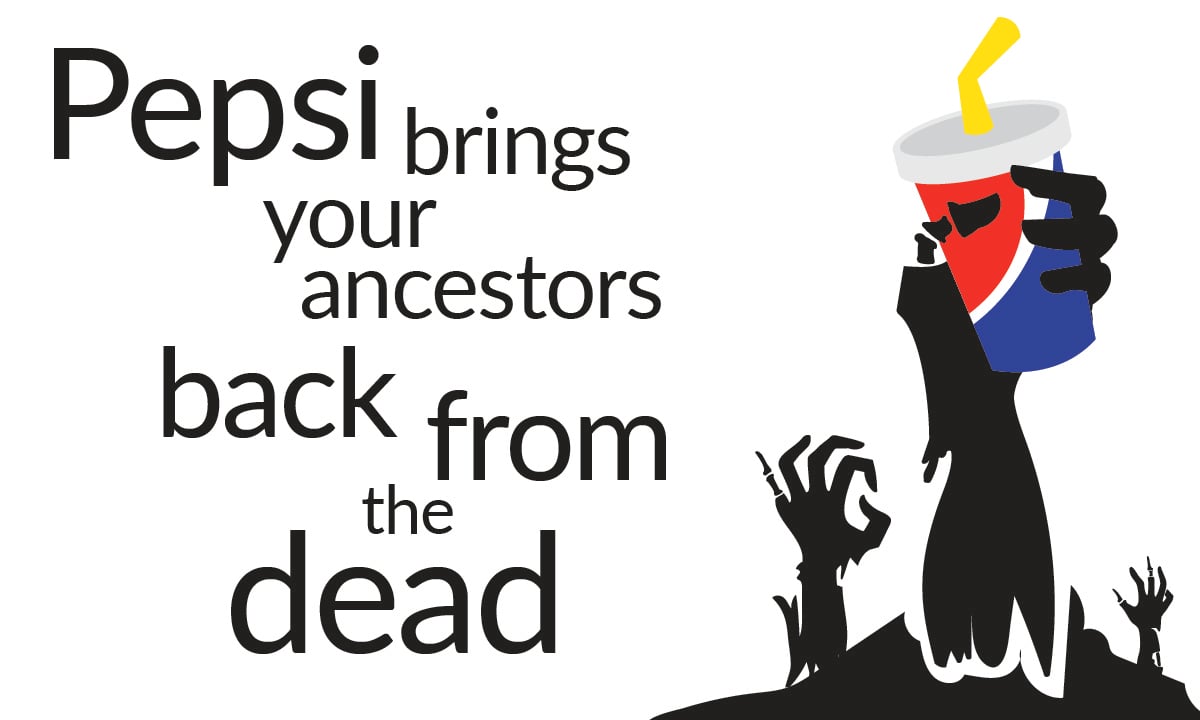 Good thing it didn't work as advertised.
How could they miss such a glaring error?
The problem is…
Localization is hard.
In the case of Pepsi, though their translation might have been accurate, they missed the key factors of localization. Localization is the process of adapting a product, service or website to the native language of the intended end user.
The process includes many factors such as:
Language
Pricing
Gestures
Adapting sign-up forms
Custom user flows
Different product offerings
Customer success / support
And much more!
We're going to look at the top challenges companies face with localization and how you can overcome them.
Why localization?
Localized experiences deliver a product to the end customer that feels like it was developed for the local market.
Gartner's recent study revealed that 89% of executives believe that the main battle they are fighting to win right now is customer experience. If executives are battling for customer experience, it makes sense that the experience should be localized to the individual..
In addition to providing better experiences for the customer it makes them more likely to buy your product or service.
"Those who localize their prices are often growing at a quicker rate overall, and definitely growing quicker in their localized regions - sometimes at levels of 30% or more than their counterparts."
Localization is the next frontier for large, modern enterprises to deliver incredible results from countries around the world. It has become ubiquitous for apps and websites to go global on day one. For most organizations, the answer is simply hitting the publish button and choosing which countries to go live in and little else.
Yet the report 'Can't Read, Won't Buy' by Common Sense Advisory shows that 75 % of more than 3,000 surveyed internet users from non-English-speaking countries prefer to buy products in their mother tongue.
Still not convinced?
According to Frost & Sullivan:
For every dollar a business invests in localization strategy, they earn another $25.
Nearly three out of four customers (72.1 percent) spend most of their time on sites in their own language.
Over half of consumers (56.2 percent) rate the ability to obtain information in their own language as more important than price.
The importance of localization for your organisation is clear; it has to be part of your growth strategy if you are to grow outside of English-speaking countries.
Enter the Top 5 Localization Challenges
According to research and analysis firm IDG, these are the top 5 challenges associated with localization: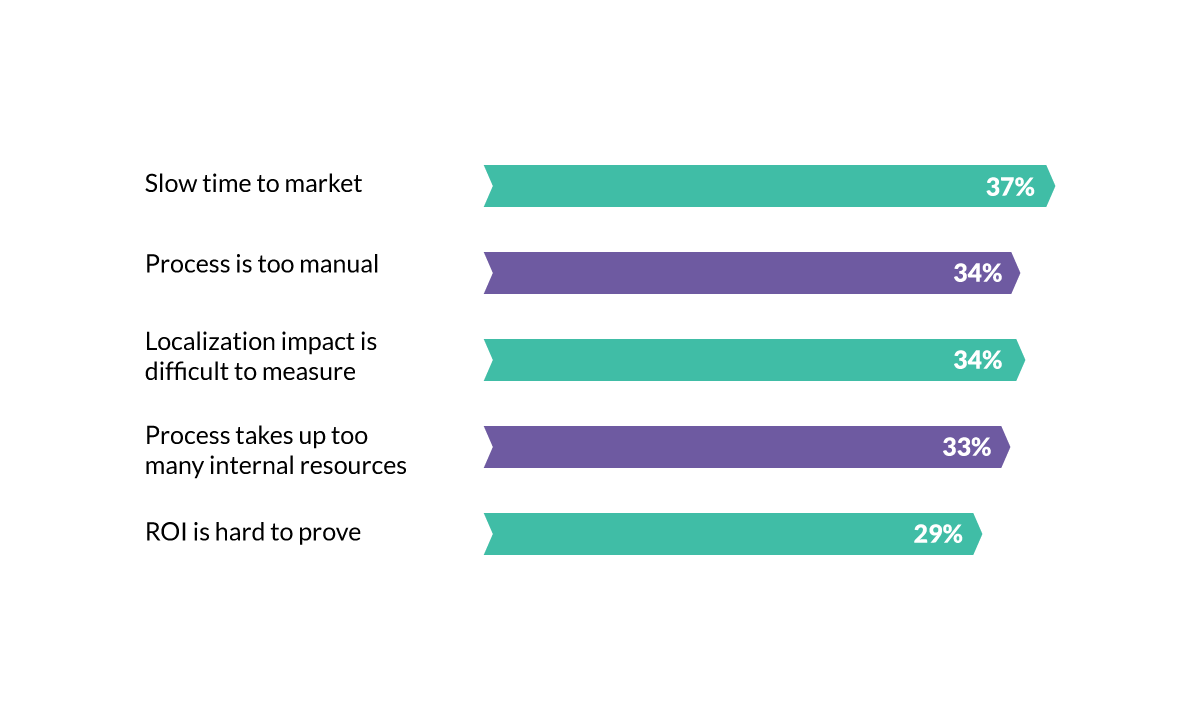 1. Slow time to market
Why is this the case?
Localized products require resources to build.
Localized services require customization.
Localized testing with your target users requires resources.
Learning about local market conditions takes time.
All of these factors impact your time to market. The question then becomes, is it justified time (see challenge #5)?
2. Process is too manual
In order to develop a localized experience for your target market, you need to learn about them. You'll have to utilise human testers to go through the localized customer journey so you can identify any gaps in the customer experience and where to improve things.
Once you've learned what you need to build/change about your product you're going to need to analyse and prioritise the efforts of various teams.
These are all tasks that requires manual effort - the machines can't (yet) do this kind of information work.
3. Impact is difficult to measure
Here is where you should refer back to what I mentioned above. Localization has a direct impact to your bottom line. From growth to revenue, customers are more likely to buy and become engaged with a brand that connects with them personally.
In order to measure the impact of localization, you need to establish baseline metrics for the specific regions and countries you are deploying your efforts to. Build Executive level support for the project by delivering on key metrics which support your business (aka your North star Metric).
Here are the top business metrics IDG identified by executives if you need help determining what to focus on: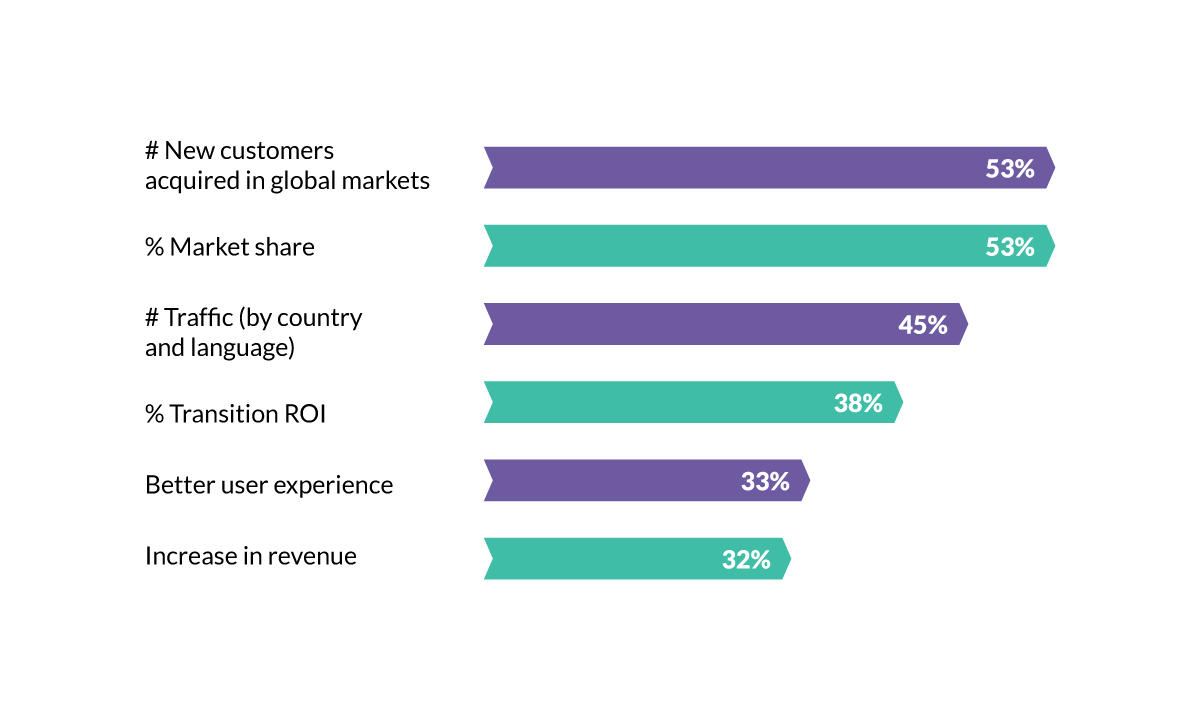 4. Process takes up too many internal resources
You can't do 100% of the localization efforts on your own - you need dedicated resources. Once you have these resources though, deploying them to Beirut or Cairo isn't an effective use of their time.
The best way to alleviate this is to partner with someone that has global reach into the key target areas for expansion. Leveraging such a partner enables your internal team to focus on implementing and coordinating the changes to the product or services you provide.
5. ROI is hard to prove
"In an analysis of 457 SaaS companies, we found that those with a greater focus on localization were growing faster."
By now you're starting to see how the data supports the importance of localization for modern brands. While you may think ROI is hard to prove, I've already shown you plenty of examples that demonstrate the opposite.
Want more proof?
"94% of multinational companies plan to increase their localization spending in 2018 and plan to expand into 7 new markets on average. Companies are moving fast to tap into markets around the world."
You're now in a position where your rivals and competitors are already moving quickly to capitalise on international growth. By ignoring or not investing now you're risking losing market share.
Even if you consider for a moment ignoring your "known" competitors, you have to think about what might happen in a market if a local competitor steps up to the plate. They are going to have a major advantage over you and quite possibly kick you out of the market.
(Don't believe me? Just ask Uber who was kicked out of Indonesia by Grab).
The evidence for localization is strong and the benefits are immense.
Your international growth will catapult
Your customers will thank you
Your bottom line will soar