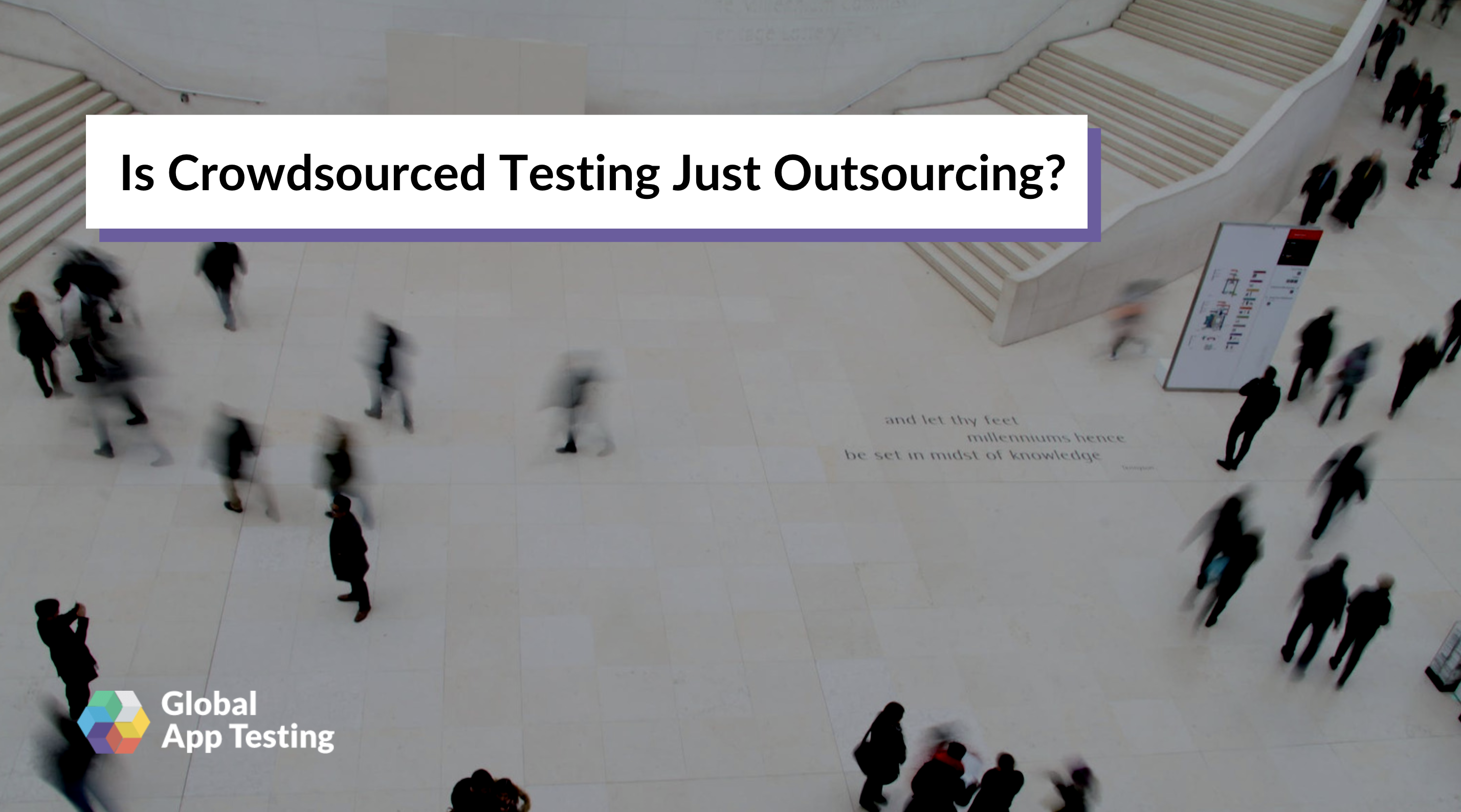 It's a common theme in the software development world that using crowdsourced testing is simply 'outsourcing' - shifting a bulk of randomised testing out of house.
In reality, crowdsourced testing and outsourcing are very different in terms of scale, speed and capabilities.
At a basic level, crowdsourced testing is about using the potential of a crowd of testers across the globe to scale your QA and increase testing capacity. For instance, here at GAT, we have our own crowd of professionally vetted testers, and partner with you to develop QA solutions that support your business.
Comparatively speaking, an outsourcing model means passing the responsibility of your testing over to an external company. This could be a company that runs automated testing or manual testing by a company with an in-house team. Either way, the process doesn't add any kind of scale to your current approach, nor does it particularly perform any faster than hiring internal staff.
So, let's take a look at the other key differences, to build a clearer understanding of the two different models.
Speed
Let's say you have a big release coming up in a new market, and some teams are unwell or out of office. You are concerned about bugs on a certain device for your new release, and need testing - fast. With crowdsourced testing, you have access to a crowd with a multitude of devices in your chosen location, so you can receive quick test results.
Rather than scrambling to purchase a new device in house, or researching and paying for an outsource provider that can test this for you, you can utilise the crowd to achieve results in under 48 hours.
Beyond that, if you have partnered with a crowdsourced testing company like Global App Testing, you can have access to all the latest devices, in countries across the globe, with testers ready to start testing on the word 'go'.
This will deliver the impact you need, and fast!
Of course, outsourced automated testing is typically seen as faster than crowdsourced testing, and this is true - to an extent. But there are separate issues with automation. It can often be expensive, and if your product is still maturing, or releasing regular updates, paying for an automation tool can be an unwise investment. Your test scripts may need to be updated, and changed, and this price will only increase with every update you make.
At Global App Testing, we use a blend of automated testing and crowdsourced testing, so you can receive instant test results when appropriate, or exploratory test results from the crowd in 48 hours or less. This will give you the ability to release faster, and more frequently.
Localisation
Let's talk about what crowdsourced testing means: harnessing the power of a crowd.
So what can the crowd do?
The crowd can be utilised to conduct localization testing, so you can rest assured that your app works as effectively as it does in the country it was created as it does in almost any market.
Moreover, if you simply want to conduct a number of exploratory or functional tests in Indonesia, we can do that. If you want to launch in Brazil and need some tests to feel confident in your release, we can accommodate that too.
It's all about achieving quality globally via the crowd.
This also means that crowdsourced testing enables you to conduct testing 24 hours a day, 7 days a week, because testing 'crowds' are flexible, and do not work on a typical 9-5 schedule. Working with a crowdsourced testing company, you could request a test and receive results in under 48 hours.
And...
Our testers love to test!
It's a fantastic way to work remotely, have freedom in your working hours and increase financial security. Our testers are one big community that like to support each other.
Scale
As your product matures and your company grows, your QA needs to scale with it. A great way to achieve this is by partnering with a company that can confidently scale with you. From our experience, however, simply 'outsourcing' a section of your QA without the right strategy isn't effective.
It isn't likely to help you reach your full potential.
Many outsourced testing companies offer manual testing (testers) and automated testing (software) for companies who have a need for large testing. The issue here is that these two techniques are viewed as separate entities. But, in reality, rather than choosing an 'Option A' or 'Option B' model, a hybrid model works much better.
That's because a blend of testing will offer you the scalability of crowdsourced testing with the undeniable speed of automation. Exploratory testing will help you discover bugs you may not have planned for, and test UX for users in environments across the globe. Automation testing will allow you to run hundreds of tests at once with relative ease and speed.
Rather than outsourcing both of these methods, partnering with a crowdsourced testing solution like Global App Testing will enable you to use a hybrid approach, thus achieving more comprehensive test coverage - without the expense of outsourcing to various companies.
Continuous Improvement
Using a crowdsourced testing solution also provides you with access to advice and expertise to help supercharge your QA strategy. Rather than outsourcing part of your testing and receiving raw results, you can, instead, enjoy the benefits of strategic input.
At Global App Testing, this means working with a customer success team that delivers continuous value. Not only do you get increased scale, device coverage and test coverage, but you get the benefits of sharing best practices and latest technologies. Whether that includes monthly business reviews, setting goals or reaching milestones, we don't just provide the solution, we are a strategic arm of that solution.
In this way, we are not a replacement for your in-house team, rather an extra layer of support to elevate your testing and increase your testing capabilities.
Conclusion
Crowdsourced testing and outsourcing are very different (even though they both have 'source' in the name!) Lets recap the key differences:
Speed - with crowdsourced testing, you have access to a broad range of device combinations and can conduct tests 24/7. This means test results - fast.
Localization - crowdsourced testing enables you to test your product across the globe, with access to a crowd of testers who are skilled in finding bugs.
Scale - crowdsourced testing helps you scale by presenting a hybrid approach to testing, rather than an Option A or Option B methodology.
Continuous Improvement - at Global App Testing, we help provide continuous improvement with strategy planning and sharing best practices.
Want to learn more? Book a free QA consultation with one of our QA experts today to find out what crowdsourced testing can help you achieve.